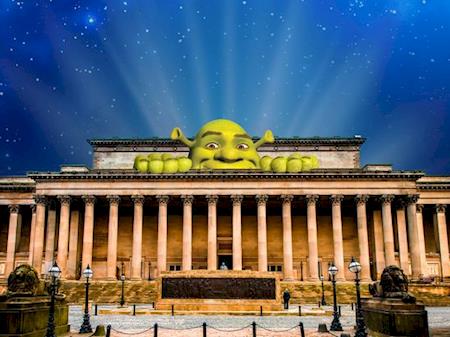 A Christmas Dream by DreamWorks
Arriving in the UK for the very first time, visit iconic St George's Hall for the amazing Dreamworks Lights and Lantern experience this Christmas.
Flagged to be 'Orgeriffic' and 'Shrektacular', the event is a walkthrough experience encompassing over 100 figures of your favourite characters and 20 enlightening scenes from three major DreamWorks productions - Shrek, Kung Fu Panda and Madagascar.
DreamWorks Lights Lantern experience is open daily from 26th November 2016 to 15th January 2017, a perfect partner to the City's Christmas markets which will be situated in their new home on the plateau of St George's Hall. Set amongst the cobbled street and traditional street lamps, over 40 stalls from across four continents will offer all the festive traditions of mulled wine, open fires and roast chestnuts as well as dazzling arts, captivating crafts and mouth-watering food. Open from 18th November from 11.00am until 9.00pm, there is no better reason to include a visit to St George's Hall this Christmas.
Tickets are selling fast, visit DreamWorks Lights to book your slot now and plan your visit around this truly magical part of town.
As a proud neighbour to St George's Hall, The Liner looks forward to welcoming you aboard this Christmas! Visit our Christmas page for further information on pre/post show meals, Festive Afternoon Tea or simply a Christmas cocktail in the Castaway Bar.
Travelling to our part of town couldn't be easier with Lime St station one minute left to St George's Hall or one minute right to The Liner. Likewise, The Liner Car Park is situated at the top of Lord Nelson Street and is an easy three minute walk to St George's Hall passing the Hotel on the way! Please remember, the Hotel car park is expected to be extremely busy throughout the Christmas period but our pre-booking service with JustPark will guarantee you a safe and secure space at your chosen time.
A member of our Crew is always waiting to help you, feel free to call 0151 709 7050 for any assistance or further information needed.