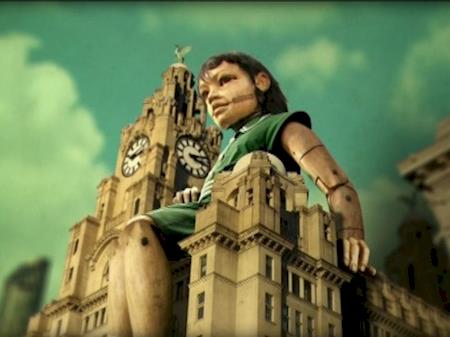 Welcome Back Giant Spectacular!
After four years of speculation, rumours and crossed fingers, it's official… they're back!
As part of the city's 2018 celebrations marking 10 years since its reign as European Capital of Culture, the Giants are returning to Liverpool for one final farewell performance.
World-leading street theatre company Royal de Luxe will bring their incredible creations to Liverpool from Thursday October 4 to Sunday October 7, 2018.
Jean Luc Courcoult, Royal de Luxe's charismatic founder and artistic director, said they couldn't wait to return to the city, recognising Liverpool as "the Giants second home" He said:
"We love Liverpool. The welcome we receive from the people of the city warms our hearts and we are excited about not only bringing a brand new story to Liverpool, but also to exploring beautiful Wirral for the first time. As it will be our last Giant show here we think it will be very special, and we hope people will enjoy our final farewell to the city which is our second home."
Royal de Luxe first came to the city in 2012 with Sea Odyssey - a story inspired by the centenary of the sinking of the Titanic. The adventures of the Little Girl Giant, her playful canine companion Xolo and the Diver attracted crowds of around 800,000. 
The Little Girl and Xolo returned in July 2014 for Memories of August 1914, joined by a Grandmother whose stories brought to life the impact of preparations of the First World War had on the city.
It is no surprise to hear plans for the October event are currently under lock and key, and all that can be confirmed so far is that the action will take place in areas of Wirral and Liverpool, and the theme of the four days is Liverpool's Dream.
Stunning artwork has been unveiled which reveals the New Brighton Lighthouse features as a new venue included on the route. The design created by Liverpool artist Alice Duke, confirms that a Giant visitor is expected to explore this part of the Wirral for a day.
Alice worked on the last Giants event back in 2014 and is delighted to be back on the team four years later: She said:
"After making work for the 2014 campaign it was an honour to be invited back to create a piece of artwork to promote the 2018 visitation. Seeing the Giants is always magical and surreal; I think the way Perch Rock Lighthouse emerges from the sea and sand matches that perfectly. It was a beautiful location to research and paint, and will be a wonderful place to see the Giants."
The event is one of the major highlights of the Liverpool 2018 programme – a year-long celebration which marks a decade since the city held the title of European Capital of Culture.
So we wait in anticipation and excitement to Welcome Back Aboard the Giant Spectacular 2018!