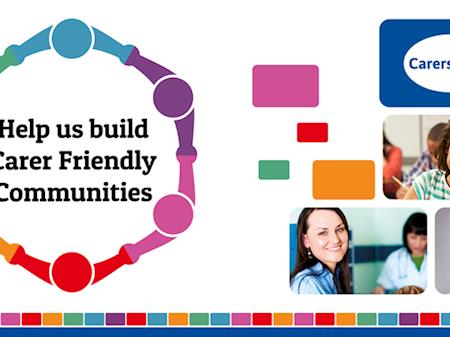 Show You Care for Carers
Carers Week 06th-12th June is a national campaign which raises awareness of the issues carers face and recognises the excellent work that they do. Organisations and individuals across the UK organise activities and events which members of the local community can get involved in to help highlight the importance of caring.
Liverpool Carers Centre works to improve the quality of life for carers in Liverpool by delivering support services that meet their needs. The Carers Centre is run by Local Solutions, a leading social enterprise which operates across Merseyside and parts of North Wales. Established in 1974 the organisation has a proven track record of improving the quality of life for vulnerable and excluded people in our community.
Local Solutions has organised this event as part of Carers Week 2016 Celebrations.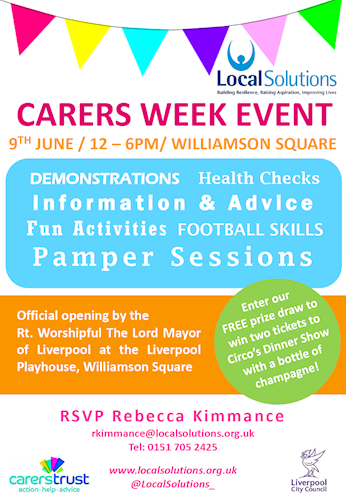 Support our local Carers community with a visit to Williamson Square on 09th June
Welcome Aboard Carers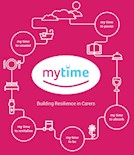 Liner is proud to support Liverpool Carers Centre 'My Time' project, providing a little respite and relaxation for the local Carer community whenever they need it. My Time aims to connect Carers to caring organisations who can offer an opportunity to rest, relax and enjoy some 'My Time'.
For many City businesses and organisations, a small contribution of a free service can have a huge and positive impact on a caring individual giving them a boost to continue their caring commitment and carry on with the excellent work they do.
'My Time' Carers say....
"Just time to relax. Time for myself"
"The staff at the hotel are lovely. I felt cared for "
"to know that I can leave my husband but not be too far away was lovely"
"The staff are superb"
"its been over 5yrs since I had time to myself. I love my mum but sometimes I just need time for me.  The hotel was great and I felt like a normal person for 24hrs thank you"
 If you think you can help support the My Time project, contact the Local Solutions Carers Centre, 0151 705 2307 or email; mytime@localsolutions.org.uk