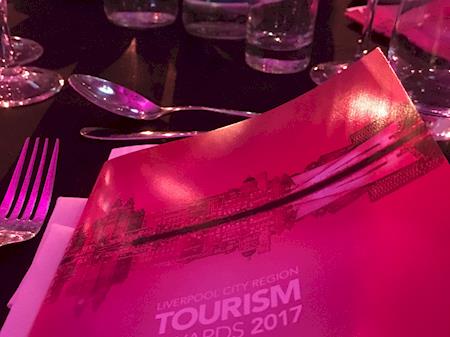 Well Done Winners!
Liverpool City Region Tourism Awards 2017
Last night saw the annual Liverpool City Region Tourism Awards held at the magnificent St Georges Hall, a fabulous celebration of some of the best attractions, restaurants, hotels and bars our City has to offer. Now in it's third decade, the awards are an excellent reflection of our City's thriving Visitor Economy and although we were not listed for an Award ourselves this year, The Liner Ladies were delighted to celebrate with our neighbours, friends of the Industry and City colleagues.
The stunning Grand Hall was awash with pink tulips, pink lighting, blossom trees and candle light. An excellent technical set up set the scene for the night ahead and welcome speeches from Sara Wilde McKeown (Chair of Liverpool City Region Visitor Economy Board) and Chris Bliss (Estate Director of Liverpool One) were received with huge applause and appreciation of what our City has achieved over the last year.
Delicious catering and excellent service was provided by Carringtons whilst videos of the year's highlights played and of course a few bottles of Pinot Grigo were enjoyed.
In the year when the City Region celebrates Sgt Pepper's 50th anniversary, we were delighted to see The Beatles Story, The Beatles Fab Four Taxi Tours and in particular Colin & Sylvia Hall (our table friends) from The Beatles Childhood Homes all collect a gong. Living alongside it, it's often easy to forget the legacy of The Beatles but nights like this really remind us of the huge impact and massive economy boost they have on our City!
Likewise, an extra special congratulations to our neighbours at The Empire Theatre Liverpool who received the award for Entertainment Venue Of The Year. We are a great supporter of their efforts to bring some of the best shows to our City!
The highlight of the evening was the prestigious award for Outstanding Contribution To Tourism given to Chef Paul Askew currently of The Art School. Recognising over 20years in the Industry, the sheer commitment to improving the food culture of Liverpool and an amazing passion for the training and development of young local people, a standing ovation was given with full applause. Thank you Chef Askew for taking our City with you wherever you go and in whatever you do.
Overall the evening left us feeling loud and proud of what our City offers to Tourism and at The Liner we are delighted to be part of this fantastic family.
Congratulations to all of the winners on the night!
Read LCRTA related articles here or view #LCRTA highlights here