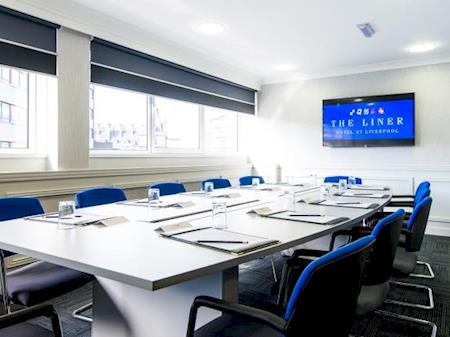 Meeting Room Upgrade
Refreshed and Ready
As part of our on going efforts to provide high levels of comfort and the latest services to our Guests, our newly refurbished meeting rooms are now ready and waiting to Welcome you on board.
All 5 rooms, situated on their own designated deck, have been re-styled and refurbished to add extra comfort, a refreshing environment and the latest facilities to enhance your meeting experience. 
Private network WIFI and added convenience of fitted projector screens, white boards, flipcharts, extension leads, cables and fixed stationery units means no more fussy starts to the day and no more searching for the ever elusive HDMI cables or whiteboard markers!
Seeing an increase in meetings with specific IT requirements, the Queen Elizabeth Boardroom Suite has been further enhanced with a 55" plasma screen providing HDMI and VGA connections, ultra HD viewing and smart TV capabilities. The cable management system installed within the boardroom table will ensure full connectivity and a high level of presentation for meetings which require multiple laptops.   
We understand the importance of being ready and refreshed before hosting or attending an important meeting, and we are happy to help, our meeting rooms will now be offered with fresh fruit and chilled water as a complimentary welcome.  
As always, The Liner Crew, are waiting to welcome you.