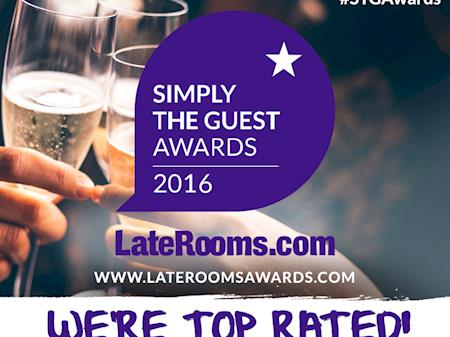 Simply the Guest Awards
Very Pleased & Very Proud!
The Liner Crew are delighted to announce THREE new awards received today from our fabulous booking partner Laterooms.com.
Award 1 = Top Rated Hotel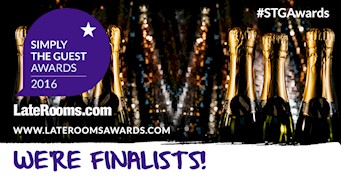 Award 2 = 4th Best Hotel for Business UK
Award 3 = 9th Best Hotel for City Centre UK
The annual awards use guest reviews and ratings published on Laterooms.com to recognise and reward the highest standards in the hotel industry across a number of categories.
As the only UK Hotel awards based solely on genuine Guest reviews, 'TOP RATED' status is subject to a minimum review score of 80%, we feel this is excellent recognition of our service efforts and a wonderful showcase of our Guest satisfaction scores. Equally, being listed as a 'FINALIST' in two additional categories really demonstrates The Liner's appeal to multiple markets
Andrea Tarpey, LateRooms.com spokesperson said: "The LateRooms.com Simply The Guest Awards have become a highlight of the travel and hotel calendar since they were launched four years ago.  Because all reviews on the LateRooms.com site come only from customers who have genuinely booked and stayed at the property, Top Rated status is now a trusted benchmark amongst those looking for a hotel where they know they can be confident of a truly outstanding stay. According to our guests, The Liner Hotel Liverpool is one of the top hotels in the UK and to receive the honour of a Top Rated status in this year's Simply The Guest Awards  reveals its standards are at the very top of the league in all areas."
 Ranking in the 'Category' awards officially recognises The Liner as one of the best in a specific sector, featuring in the top ten in two categories reflects our almost faultless Guest reviews received over the last 12 months.
LateRooms.com spokesperson, Andrea Tarpey, said: "Being named as a Simply The Guest Awards finalist places The Liner Hotel Liverpool firmly amongst the nation's best loved

'Business'

and 

'City Centre' 

hotels. It's an achievement that's testament to the team's absolute dedication to guest satisfaction over the past year"
A huge thank you to Laterooms.com and all of our Laterooms.com Guests for recognising The Liner at the Simply The Guest Awards 2016.  
You can see the full list of Simply The Guest Awards winners and finalists at www.lateroomsawards.com.
See The Liner Hotel Liverpool at www.lateroomsawards.com/2016/business-hotels/ and www.lateroomsawards.com/2016/city-centre-hotels/