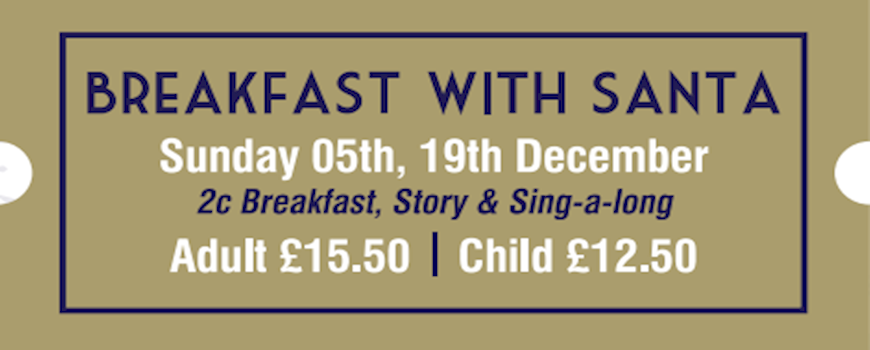 Welcome Aboard for Breakfast with Santa
 **Final Spaces Remaining**
Join us on selected Sundays through December for our Family themed Breakfast with Santa event. Enjoy a wonderful 2 course Breakfast followed by a special visit from Santa and his friends. Join in with Santa's story-time and sing-a-long for a festive treat for the whole family to enjoy. 
Sunday 05th December & Sunday 19th December  
Arrive to Hotel from 10.30am
Breakfast served from 11.00am
Await the sound of Santa's arrival from 11.30am
Santa Story-time & Sing-a-long from 12.00pm
Event closes at 1.00pm
Breakfast Starter | Served to Table
Fresh Fruit Pots
Selection of Breakfast Pastries
Breakfast Main Course | Served from Buffet
Sausage
Vegetable Sausage
Bacon
Fried Egg & Scrambled Egg
Grilled Tomato
Hash Browns
Baked Beans
White & Brown Toast
Breakfast Drinks | Served to Table
Tea, Coffee, Fresh Orange Juice
Cash Bar available
*This event does not include personal or private visits to Santa. All interaction with Santa is group or table based. Private photos with Santa are subject to time availability and not included as standard. 
Please contact our Christmas Crew for bookings and further information | 0151 709 7050 | e:christmas@theliner.co.uk