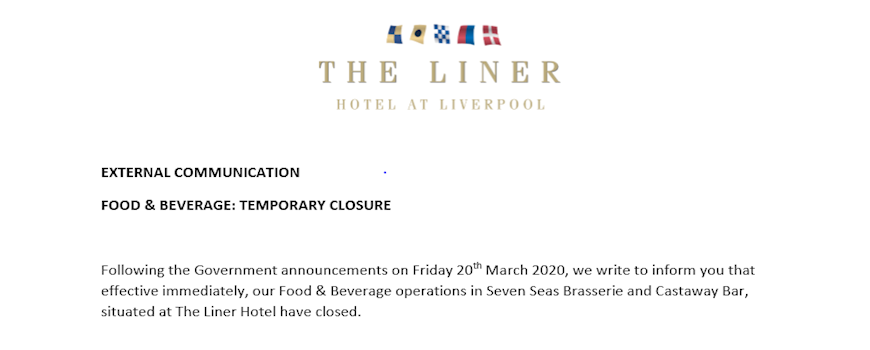 Following the Government announcements made on Friday 20th March 2020 - 
The Seven Seas Brasserie and Castaway Bar are now closed.
Please contact a member of our Team if you require any assistance with existing or future bookings.
Thank you
Welcome Aboard for Afternoon Tea
As a traditional favourite on board the World's luxury Cruise Liners, Afternoon Tea has been recognised as a quintessentially British experience for almost 150 years and more recently has become a popular and fashionable choice for many a social occasion. 
Freshly prepared and traditionally presented, our Classic Cruise Afternoon Tea is served with a choice of unlimited fresh tea or herbal infusions, freshly ground coffee or cappuccino. 
Presented on a classic tiered stand, Classic Afternoon Tea includes a selection of fresh finger sandwiches, savoury tarts, warm fruit scones served with clotted cream and strawberry jam and a selection of classic tea cakes and treats. Indulge on tradition and add a glass of chilled Prosecco.
Experience the best of Afternoon Tea in the Seven Seas Brasserie.
Classic Afternoon Tea £14.50 per person 
With Prosecco £17.50 per person
Vegetarian and Gluten Free options are available on request
Available everyday 11.30am - 2.30pm. Bookings for Afternoon Tea are required 24hrs in advance.
Group bookings of 6 people or more require an advanced deposit of £10.00 per person.
Afternoon Tea cannot be booked online. Please contact a member of our Brasserie Crew.  
Please contact a member of our Brasserie Crew; 0151 709 7050 or email: sevenseas@theliner.co.uk for further information 
Seven Seas Afternoon Teas Gallery